Podcast Case Study Overview
In this Podcast Case Study I analyse the A16Z Podcast by Andreessen Horowitz. Full Disclosure: A16Z is not one of our client podcasts. I cover case studies of our client work in a more extensive case study guide.
I chose A16Z podcast for 3 reasons:
The A16Z Podcast is a B2B Podcast, a category that our Podcast Agency specialises in
The A16Z Podcast has global appeal (I'll share the Podminer analytics data with you in this article) and therefore significant upside in extending and localising its content
The A16Z Podcast underperforms in relation to its brand potential. While A16Z has global appeal, their Podcast Rankings could be significantly better with a degree of podcast optimisation.
Introduction to A16Z
A16Z is a well-known Silicon Valley venture capital firm owned by Marc Andreessen and Ben Horowitz. Their podcast focuses on tech, culture, and the future of business in a world where software gains more and more prominence. Insights into the investment mindset are what this podcast does best, with industry experts and gurus giving fresh takes on a diverse range of topics from real estate, healthcare, cryptocurrency, and more.
Gaming Goes Mainstream and How Founders Hire a VP of Product are two notable episodes that transcend the subject matter and pack in an incredible amount of insight and information useful for anyone in the business environment.
A16Z actually has 3 podcasts, all tracked on our Podminer Analytics Platform:
Analysis of the A16Z Podcast Rankings
Being a Silicon Valley based podcast, it's easy to see how A16Z could immediately plug in to the established and reasonably mature listener base in the US. Data shows that over 50% of under 25s listen to podcasts regularly.
But, key to A16Z's business case is its global appeal. Our Podminer analytics data for the podcast shows that they rank in both developed and emerging markets. Notables being India, China and some iTunes stores in Africa.
Like most Business podcasts on Apple Podcasts, A16Z ranks in two categories:
1) The parent category: BUSINESS
2) The main sub-category: TECHNOLOGY
In the US, A16Z is a Top 10 Podcast in the competitive Technology category.
Given the reach and resources of Andreessen Horowitz, however, we believe that this to be below expectations.
Podcast Rankings are specific to geographical stores and categories. While A16Z may not be a top 5 podcast on the US Apple Store, it performs reasonably well globally. But how is their aggregate podcast performance? This is tricky to track manually, that's why we implemented a universal metric on our Pikkal Analytics platform to help Podcast Clients track performance.
To provide a universal benchmark of performance we developed the Podcast Authority Index (PAI). PAI Scores represent the number of Top 20 Appearances this Podcast makes across Geographies and Categories.
A16Z's PAI SCORE is rangebound between 30 and 40, meaning that the podcast appears in 30-40 top 20 podcast charts globally.
The key takeaway here is that, while A16Z may be underperforming in its native US Technology category, it's making up for this with global reach. Over the last 30 days, A16Z PAI Score has increased +9%.
Optimisation of A16Z Podcast Performance
There are a couple of quick wins here:
1) Optimising Cadence
2) Optimising Podcast Content
3) Optimising in-Category Podcast SEO
Optimising A16Z Cadence
Similarly, what is the optimum Cadence of the A16Z Podcast? What are customers demanding?
Our Podcast Analytics platform offers clients a deep dive into critical Performance Communication Analytics that can optimize existing conversations. With respect to Cadence, the two areas to consider are:
A) Cadence vs Category Average
B) Cadence Deviance
Cadence vs Category Average – what is the average Cadence for your Category? What is the cadence of top 10 podcasts in the TECHNOLOGY category?
Cadence Deviacne – this is perhaps a critical yet little known metric that we have come to focus more on in recent months. There is a significant correlation between Cadence Deviance and podcast performance. A good beat, like in business, music or building an audience requires CONSISTENCY. In the context of publishing a podcast this means picking your Cadence and sticking with it. 2 weeks means 14 days between podcast episodes, not 15 or 12,13,14.
From simply eyeballing the A16Z Podcast data, we can see considerable Cadence Deviance.
Deviance itself isn't a measure of success, but a hygiene factor in Podcast Peformance. Anecdotally, and this needs more research in coming weeks, we've found that Deviance is not an issue when the raw Deviance duration is less than 2 weeks. After 2 weeks, we see audiences and Podcast Rankings fall.
Optimising A16Z Podcast Content
There are 2 levels to Podcast Content Optimisation to consider:
a) localisation of content
b) content length
a) Content Localisation
Given A16Z global appeal, and the fact that they already have 3 tiers to their podcast channels, it should follow that Andreessen Horowitz also consider localisation of their content. Consider the performance of A16Z podcast in the Singapore Technology category:
Disclaimer: I'm based in Singapore, so I'm naturally biased towards localised content that caters to a Singaporean vantage point. Bias aside however, Silicon Valley VCs tend to, through their own good fortune, be myopic in their world views. The world comes to them, and this mindset is deeply ingrained in their communication strategies too.
Singapore, however, with its access to the Southeast Asian markets and connections with both Asia and India is the perfect jumping off point for A16Z to significantly increase its reach. Consider the data:
A16Z already has a beachhead of fans locally reflected in our Podminer analytics data
Within a 5 hour flight from Singapore Changi airport you can reach markets of 5 billion people – that's 5x the same flight out of San Francisco SFO.
Andreessen Horowitz will either help shape Asia's burgeoning startup scene or be left behind in its wake as the new guard takes over. Without investing heavily in expensive operational outposts in the region, Andreessen Horowitz can establish a presence digitally through simply adding a 4th localised channel to their podcast.
b) Content Length
Take a look at this rough snapshot from our Pikkal Analytics data. This is a scatterplot of Podcast Episode Audio length (in minutes) on the X axis vs The Top 100 Podcasts Globally (ranked by Podcast Authority Index PAI SCORE). What the trendline shows here is that higher ranking podcasts are longer than lower ranking alternatives.
The Top 10 Podcasts globally average 44 minutes in length, whereas those in the 90-100 grouping are around 10 minutes shorter. A16Z Podcasts vary in length considerably (and this is an inconsistency that can impact performance, along with TAKT).
A16Z Podcasts are upper range 50 mins, lower range 20. My suggestion here is not only to standardize the podcast length to help train audiences, but also focus on the sweet spot for a top performing podcast – 44 minutes.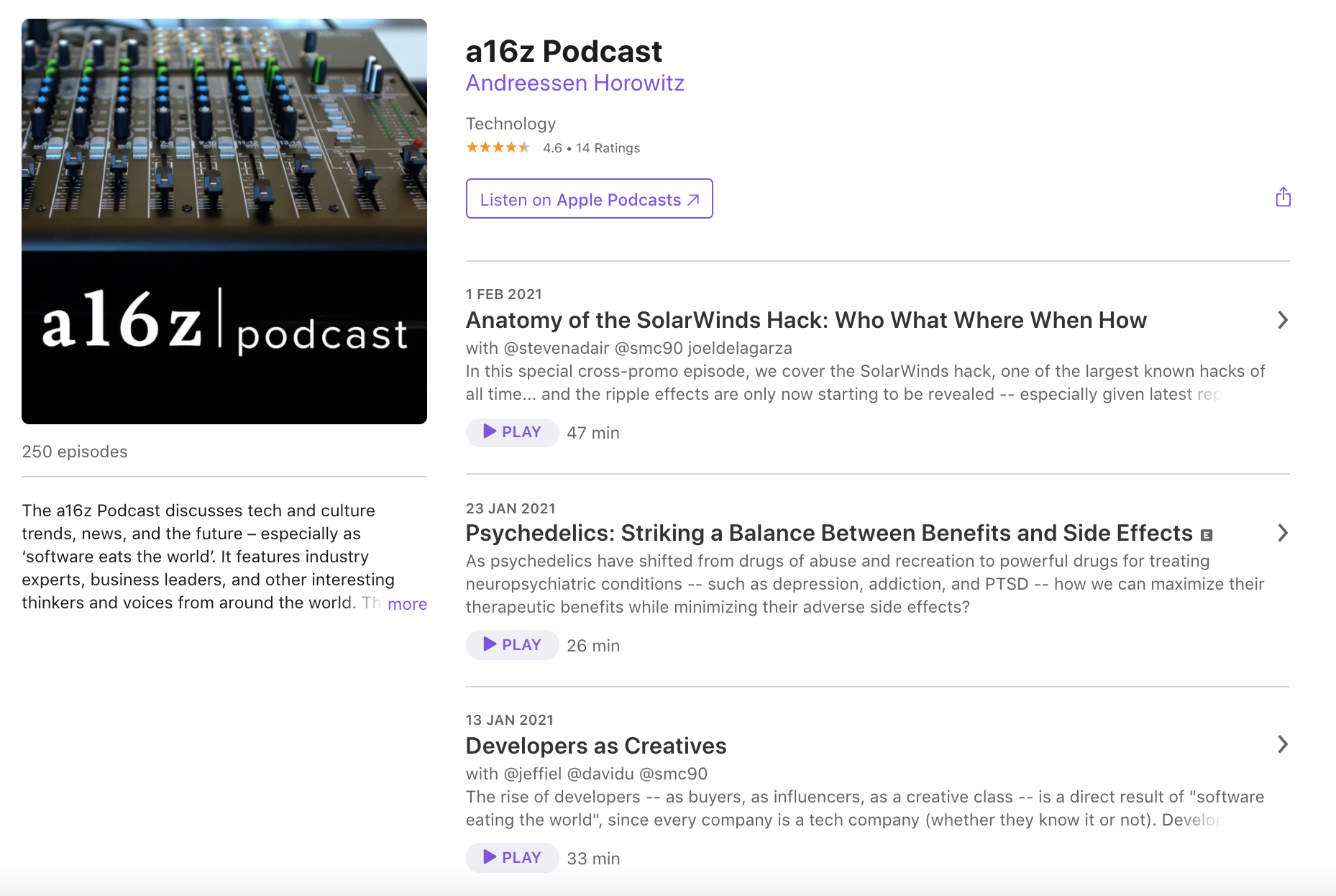 Optimising A16Z Podcast SEO
An area our Podcast Clients have been keen for us to experiment with in recent months is Podcast SEO. While the obvious extension of the Podminer platform is to add search positions for keyword rankings to the existing store performance, there are also other insights we've been experimenting with that I'm going to share in coming weeks, namely:
The correlation between Podcast Title & Ranking
The correlation between Podcast Description Length & Ranking
The use of trending keywords & entities in Podcast Descriptions
Podcast Analytics is a new area entirely and few companies are doing much beyond simple RSS Feed tracking. Our goal is to use Podcast Analytics to better serve the clients of our Podcast Agency and create more Award Winning Podcasts!
4 Potential Business Cases for A16Z Podcast
Like most B2B Podcasts, A16Z has a number of potential business benefits:
Building the Storytelling Organization – humanizing the voice of Andreessen Horowitz to attract aligned founder talent and fund investors
Building Brand Authority for the fund, defining the category and leading the conversation
Following on from point (2), agile storytelling for Andreessen Horowitz partners and founders, enabling them to build a robust thought architecture to differentiate their offering and define the space beyond "venture capital",
And lastly, podcasting for Recruitment
Content Analysis of the A16Z Podcast
CONTENT: Andreessen Horowitz positions itself as a Founder-led VC fund (unlike its competition), so A16Z is a key tool for the fund to a) attract likeminded investors and founders and b) differentiate its VC offering. A16Z covers a broad range of topics including esports, blockchain computing, autonomous vehicles, the biology of pain and how humans anthropomorphize robots.
CASTING: Sonal Chokshi, Editor in Chief at Andreessen Horowitz . The podcast regularly features members of the a16z team as well as their wide network of partners as expert commentators.